Blog
To read Co-director Maryam Henein's blog,
please visit: http://www.maryamhenein.com/
19 October 2009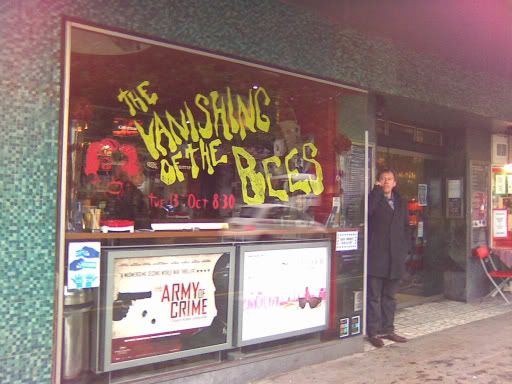 (Vanishing of the Bees @ The Gate Picturehouse, Notting Hill)
As Vanishing of the Bees enters its second week on release, it's not only cinemas that'll be showing the film. A string of National Trust properties around the country will also be hosting screenings, many of which will be accompanied by talks, presentations, and all will be showcased in fabulous surroundings.
To find a full list of the cinemas and National Trust properties screening Vanishing of the Bees, please visit our screenings page here:
We've received some wonderful reviews, both from the press and the public over the last week with Filmstar magazine calling the film "the most important documentary since An Inconvenient Truth" while The Daily Mail found it a "A real buzz killer - in the best possible way". The opinions of journalists was mirrored by the public who came out to the cinemas with Nigel in Edinburgh saying "It was good to see that it was a sell-out and even a few beekeepers begging to get in after forgetting to book their tickets in advance." John in Aberdeen concurred, "The film is first class, and the question and answer session went very well."
Nigel and John were just two of the thousands of audience members who packed out cinemas across the country. Special thanks should be made to everyone who ensured that the Edinburgh and Cambridge screenings were sell-outs, while a particularly rowdy debate took place after the weekend screening at The Tricycle. Hearty thanks to everyone who came out to support the film.
If you feel inspired by the film, show your support and add your name to The Co-operative's petition calling on the UK Government to carry out a systematic review of the impact of pesticides on honeybees. Sign the petition here:
Please continue to support the bees and don't forget to share!!
19 October 2009
Colony Collapse Disorder: The Disappearance of the Honeybee

I used to hate bees. As a kid I threw stones at their hives and overhand smashed them into the pavement with my tennis racket. Now, as a compassionate and more or less rational adult, I nevertheless still fear their stingers, though interestingly enough, I haven't actually been stung once since I stopped chucking rocks into bees' homes and Björn Borging them into early graves. I guess the bees and I have achieved some kind of microcosmic human-bee peace accord: a consensus of mutual understanding, tolerance and respect. But it may all have been in vain.

There is a serious problem with the bees. Case in point: the European honeybee, also known as the Western honeybee. It is this variety of bee upon which we humans rely greatly for the pollination of many of our crops, not to mention the delicious honey they provide – something that is really more for them than us and far less important for human health and survival. But those monoculture crops that depend on honeybee pollination: fruits, nuts, vegetables, flowers, seeds, beans and spices, are consequently under threat due to the flight of the bumbling bees, or as scientists like to call it, "Colony Collapse Disorder" (CCD).

The recent BBC documentary program "Who Killed the Honey Bee?" outlines the phenomena of Colony Collapse Disorder, where bees either die off or curiously vanish without leaving a dead body or even so much as a goodbye note. Since 2006 the honeybee population in North America has rapidly declined to dangerously low levels. In Europe, so far 1/3 of British bees have disappeared, while France experienced a similar problem in the 1990s, from which it has yet to recover.

So what is causing the bees to buzz off and not come home to their keepers? The precise answer is not known, but possible causes include pesticides, viruses, parasites – which carry viruses – and (you guess it) climate change. Many keepers blame systemic insecticides, which are absorbed by plants and are designed to kill pests who subsequently eat them. Unfortunately, this may include honeybees. Another suspected culprit is the ominously named Varroa destructor, or Varroa mite, a known and hated honeybee parasite that carries viruses and has grown resistant to chemical deterrents. Weakened bees are especially susceptible to these viruses as well as to cold winter weather.

The Urban Honeybee
London – though conventional wisdom would seem to contradict this – may be less polluted than the English countryside, at least in ways that affect honeybees. With its many gardens and parks, the city offers a large amount and diverse variety of flowers for bees to pollinate and perhaps crucially, it isn't full of insecticides. Orlando Clarke, an urban beekeeper based in London, where honeybee colonies are thriving, believes that "bees act as a barometer for the health of the entire planet". This kind of conceptual thinking has also been applied to the disappearance of frogs, termed the Global Frog Crisis.

So what more can we expect from Colony Collapse Disorder and what can be done to combat it? According to "Who Killed the Honey Bee?" bee viruses are spreading more than ever and weak bees are having more trouble surviving them.

In the meantime, British scientists are attempting to breed disease resistant bees, while in the U.S., importing Varroa resistant bees from Russia has shown some success. Beekeepers themselves are making efforts to keep collapsed colonies separate from healthy ones, as well as attempting to prevent the spread of parasites like the Varroa mite. What we, as private citizens, can do is plant gardens, keep a variety of flowering outdoor plants and where possible, either raise a few hives of our own or allow keepers to keep some hives on our land.
If the disappearance of the honeybee is indeed the proverbial "canary in the coal mine" as some suggest, and a harbinger of worse things to come, the seriousness of Colony Collapse Disorder cannot be overestimated. Without the pollination of honeybees, foods such as almonds, peaches, apples, cherries, raspberries, cranberries, strawberries, watermelons and cucumbers could all end up being rare luxury items. So I hope you all like potatoes.

By Graham Land
Originally posted on www.greenfudge.org
6 October 2009
5 October 2009

Aldo Zilli and Mr Bee

Todd Carty and friend

Sian Lloyd and Mr Bee

Mr Bee and friends

Sebastian Bassong and Mr Bee

Todd Carty - Michelle Collins - Rowland Rivron

Oli Harbottle - Anna Godas - Mr Bee - Andy Whittacker

Andy Whittacker - James Erskine - David Hackenberg - Maryam Heinen - George Langworthy - Clare Ebrey - Chris Shearlock
2 October 2009
Last night we celebrated the world premiere of Vanishing of the Bees and we'd like to say a big thank you to everyone who turned out and worked so hard to make it such a success.
l to r Andy Whittaker - Dogwoof, James Erskine - Exec. Producer, David Hackenberg - Bee Keeper, Maryam Henein & George Langworthy - Co-directors, Claire Ebrey & Chris Shearlock - The Co-operative
The night and the film have obviously created a BUZZ with Oasis front-man Liam Gallagher getting on board and showing his support, "I like honey. If it weren't for honey, I'd have a rough voice." the star joked.
Liam and our Bee (click on image to read the full story)

See what all the fuss is about for yourselves when the film hits cinemas on 9th October. A special set of nationwide screenings take place on Tuesday 13th October with many of the screenings accompanied by Q&A sessions with special guests.
Don't forget you can also follow the film on Twitter and become a fan of us on Facebook.
30 September 2009
SOS for Honeybees

In July 2009, the Annual General Meeting of the National Federation of Women's Institutes voted almost unanimously to pass the 'SOS for Honeybees' resolution. Since then, WIs up and down the country have been raising awareness at summer fetes, village fairs and elsewhere within their communities about the issues facing honeybees. Members are aware of the crisis that is facing us, and desperately want to inspire others in their local area to get involved and take some action.

All members are being encouraged to plant bee-friendly plants in their gardens or window boxes – something that absolutely anyone can get involved in – as well as talk to their local authority about the kinds of flower and plant mixes which they use. If public spaces can become a haven of diversity, perhaps we can help to make honeybees up and down the country more resilient to diseases and pests.

In the last week of October, WI members will be taking part in our Bee Aware Action Week, when they commit to spending one day eating only products pollinated by honeybees. You might think this would be an incredibly boring day, but you would be wrong! Bees pollinate a huge variety of different plants, without which our diets would be very dull indeed – I am thoroughly looking forward to my Bee Aware day!

I really hope that the Vanishing of the Bees will help to spread the message to new audiences about the challenges faced by the honeybee and how important it really is to our future.

You can find out more information about the NFWI's campaign 'SOS for Honeybees' here: www.thewi.org.uk/

Ruth Bond | NFWI Chair
Subscribe via RSS
Want to write a blog for this site? Email - campaigns@co-operative.coop